St Martin's Day Fair, Tallinn
perignon
November 18, 2011
Kristiina and Priit Halberg participated at St Martin's Day Fair in Tallinn, Estonia (Nov. 10 - Nov. 12).
The St Martin's Day Fair in Tallinn is the biggest handicraft event in Estonia, this year it was held for the 15th time already.
It was organised by Estonian Folk Art and Craft Union.
Kristiina and Priit demonstrated how to make bobbin lace and answered to the numerous questions of the visitors.
Visitors could buy traditional handicrafts and meet the artisans who had made them.
Specialist workshops for handicraft lovers and crafts activities for children were organised.
It was possible to eat Estonian traditional food and listen to various folk music groups.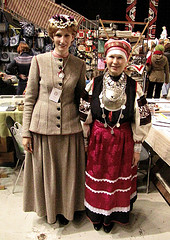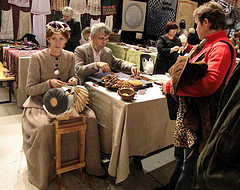 Kristiina and Priit Halberg making bobbin lace